STRETCHED CANVAS PRINTS
These are high quality prints on 3609 Picasso™ Canvas. It is a premium, bright white, inkjet coated canvas designed to produce solid blacks, vivid colors and smooth gr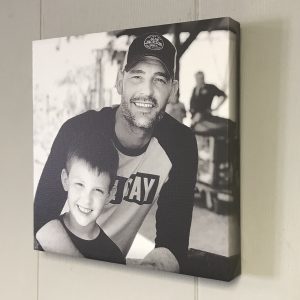 adients. It is 17 mil, poly/cotton blend.
We use 1.5 inch gallery stretcher bars. The stretcher bars are made of first quality precision-cut kiln dried Pine Wood. Double in depth and strength. Ideal for gallery stretching. The bars have a beveled edge for minimal canvas contact.
See Examples of Stretched Canvas Prints
PRICING: Any size available. Contact us for custom size.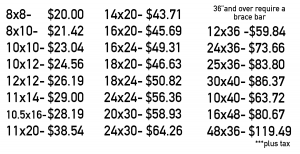 Adding wording or making a collage is an additional charge of $5.00 to $10.00 depending on amount of time it will take. 
HANGING CANVAS
Our  Hanging Canvas Signs are printed on the same materi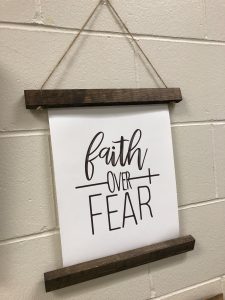 al as the stretched canvas and fixed between two stained, pine wood hanging rails & complete with a rustic twine for hanging.
The banner can be ironed between two pieces of fabric to remove any wrinkles that may occur during shipment & storage.
Price is determined by size for custom design. Example 14″x15″ = $26.88,   12″x36″ = $31.50. Pre-made designs in stock are discounted.
See examples of Hanging Canvas Prints
Mounted and/or Framed CANVAS
This is a printed canvas that is left flat. It can be hung or used this way or it can be mounted on thin plywood and also framed. Pricing is by quote only and determined by size and options the customer wants.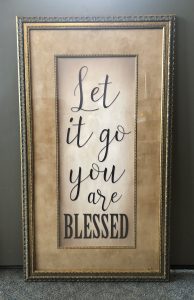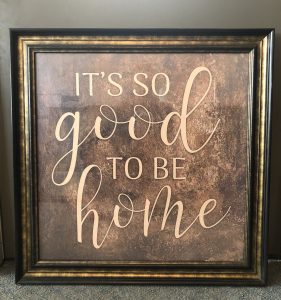 framed printed canvas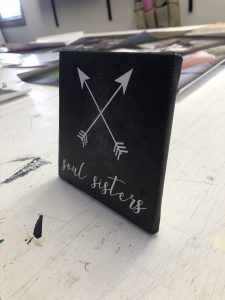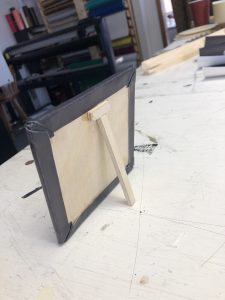 Mini mounted canvas with stand