Pricing is determined by quote only because there are so many factors that go into determine the price, such as, what type of shirt, material used, quantity, colors, locations, Printing process, if there is a need for an underlay and so on.
There are 4 options for decoration:

We offer Screen printed apparel. But what is SCREEN PRINTING? Click for details and pricing
Another option is DGT or DIRECT TO GARMENT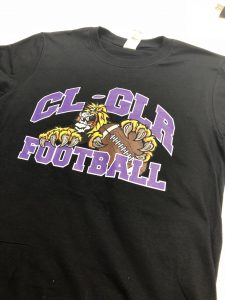 Digital printing is a much newer process that involves your artwork being processed by a computer, and then printed directly onto the surface of  your product. Digital printing is not a heat transfer or appliqu'e, as the ink is directly adhered to the fabric of your shirt. Each printing process has its strengths, and our artwork team will weigh these when deciding which to use for your design.
Digital printing is best used for items that require high amounts of detail, and orders of a smaller quantity. The fact that the digital printer does not use screens allows for a photographic print, with much more detail than traditional screen printing. As the ink is applied thinner (to achieve such detail), digital printing is best used on lighter colored shirts to allow the design to shine through. The fact that the design is processed and printed digitally allows for a quantity of one, since there are no screens or physical setup.
This is a good option for 1 shirt orders with multiple colors.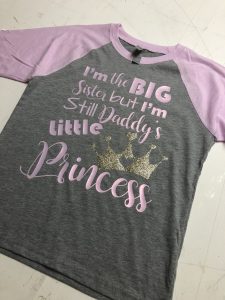 HTV or Heat Transfer Vinyl is vinyl media for T-shirts and garments, which can be cut through a vinyl cutter and applied to the fabric with a heat press. This type of vinyl has a layer of adhesive which is only activated by heat and comes in a wide variety of colors and textures.
The durability of heat transfer vinyl ranges and depends on the vinyl used. Standard vinyl generally lasts the life of the garment when pressed correctly which makes it extremely popular and fairly permanent. Specialty vinyl such as foil or mirror vinyl is made for eye catching decorative designs and can delaminate after improper washing fairly quickly. Pressing and washing instructions are especially important with this product.
This is a great option for 1 shirt orders. It is less expensive then DTG.
The last option is in a category alone. EMBROIDERY
Embroidery is the method used for decorating fabrics with a needle and a thread. Embroidered designs are a great way to add excellence and creativity to your uniform or jersey. Embroidery generally has a longer lead time than other types of customization, but the effect is quite nice.
Every time you see a shirt with an embroidered company logo or hat with an embroidered sports team emblem, that design was "digitized". Embroidery digitizing is the process of converting existing artwork like a company logo or team emblem into a stitch file that an embroidery machine can sew on a garment. Before any design can be embroidered, it must be digitized. Digitizing is a complex process that is both art and science.